Pin It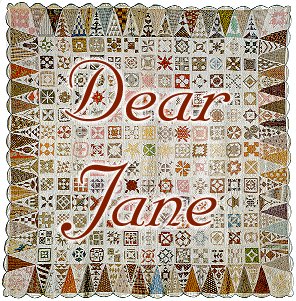 I am not new to quilting, not new to blogging, and I am not new to undertaking large and multiple projects at one time. As my sweet husband watched me dragging out new fabrics the other night, he asked me, "now just how many projects do you have going now?". I replied. "three". To which he said, "what about your crochet?". To which I answered, "oh, two crochet projects... do those count?". As sweetly as he could, "yes, crochet counts too".
So I have five projects going on right now. A tumbling blocks baby quilt; a pinwheel baby quilt; a granny square crochet blanket; a Babette crochet blanket; and last but certainly not least... my Dear Jane quilt.
Dear Jane is my latest undertaking. I have only been quilting a few years but almost from the beginning, I have been dying to make this quilt. I am fascinated with the blocks, the techniques, the fabrics and of course the history. What my husband probably doesn't realize is that this one will take a few years to complete. He also doesn't realize that he will be climbing very high above our mantle to hang this quilt once it is finished. But... I have two years to prepare him for that.
I love working with my hands be it quilting, crocheting, knitting, or sewing fun dresses for my sweet daughter. I work full time and I love my job; but I also love going home in the evenings and spending time with my family and squeezing in time spent on my projects. I have a stressful job and I unwind through crafting.
So here I am, creating a blog devoted not only to quilting but also to my love of life, family, and all things handmade.